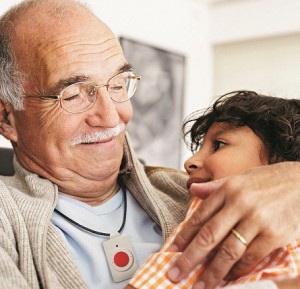 1.  Figure out the type of monitor that suits you best. Life alert and medical alert devices include transmitters enables to attach to a wheelchair or fastened onto the wrist, belt or around the neck.
If a person is prone to falling, you would definitely want a fall detection system that is activated without needing to reach for a telephone. Most medical alert devices can be used even if the phone is off the hook; it alerts family and emergency services when activated.
You may want a medical alarm system that sends an alert when a person leaves the house or gets up in the morning to bring awareness of any irregularities.
2.  Make plans for the future.
The ability for the senior to push a button to signal for help or be able to reset a system now, but it may not be so in a year from today.
Make sure your medical alert system's contract enables you with the flexibility to make changes so that your needs will continue to be met for years ahead.
3.  Take into consideration range of area your system should encompassyou're your needs. If the senior using the device enjoys gardening, having the front and backyard of their home monitored is essential.
4.  Decide the duration of time the senior needs medical alarm and fall detection.
If a senior has had surgery only requires a few months of medical and home alert monitoring, signing a 2 year contract would not be necessary.
5.  Verify with Lifecall if your medical alert system is transferable.
6.  Consider what the senior is capable of operating and if he or she will remember to wear the medical alert device or have the ability to push the button.
Some seniors can forget to wear their fall detection monitor.
Video systems are available for installation to allow you to monitor and protect your senior from another location.
7.  Make sure your medical alarm system includes a GPS locater to track the person if they are prone to getting loss or have a medical emergency while away from their home.
8.  Review the cost of the home medical alert contract.
Determine the duration of the contract and if it fulfills all your needs. Verify whether or not there are cancellation fees.
Investigate if there are any penalty charges for false alarms. If a button is pressed accidentally or the senior uses it for a relatively minor issue, will any charges be tacked on as a result?
9.  Compare the features, pros and cons for the many different medical alert systems available.
Medical alarm plans may vary and selecting the best option that fulfills your particular needs will bring peace of mind.
Currently in the United State Medicare does not usually cover fall detection and home medical alert systems. Sometimes private insurers may cover these plans, so investigate.
10.  Make sure to ask a provider such as Lifecall about the plans and services they offer.
Response time is important to know.
Be sure to verify if medical device parts are gauranteed as well as servicing of the equipment.  Ask if technical support is made available to clients.
Ask if batteries are able to be recharged or need replacement.
As about waterproof monitoring lifealert systems.
Plans offering 24-hour, 7-day-a-week coverage are optimal if you can afford this service.
Research the company to find out their reputation and how long they have been in business.  Be sure to get references and find out how employees are trained.
Find out how often the system automatically tests itself. A system should be tested and monitored regularly to ensure its safety and effectiveness.