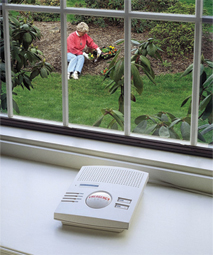 A senior citizen who lives alone has fallen and is unable to stand up and walk over to a telephone to dial 9-1-1. This and many other emergency situations are a real, frightening prospect however thanks to our modern age we now have Lifecall's Medical Alert and Fall Detection services that will vanquish you and your family's concerns. Lifecall claims that these systems will bring comfort and confidence to a senior's independence which is great for seniors that want to continue their independent lifestyle.
What Is Medical Alert for Seniors?
Home Medical Alert is an alarm system that brings immediate help in the event of an emergency with just the push of a button.  Medical Alert Systems consist of three parts including:
Waterproof battery-operated transmitter that is easily worn or carried
Base console directly connected to your home telephone
Monitoring station linked to your console
When the transmitter's button is pressed a signal is immediately sent to you home base console. The console dials several saved phone numbers, including the monitoring station. The medical alert staff at your local monitoring station will place an emergency call on your behalf. If your phone is being used or is hanging off the hook, the monitoring system staff can seize the line and place a call to a local emergency medical service.
The medical alarm system transmitter is small and comfortable enough to wear or carry in pocket or purse. It can be worn in a variety of ways, such as a pendant, a necklace, attached to a belt or around the wrist like a bracelet.
Transmitters are operational hundreds of feet away from the home base station however check with your Lifecall provider if your particular device works while you're away from your house.
To have the comfort of knowing that help is available at the click of a button, ask a Lifecall agent about our trustworthy Home Medical Alert systems.  It's reassuring to know that no matter what time of day or night, a staff of medical professionals is always available to speak to and provide immediate support in the event of an emergency.