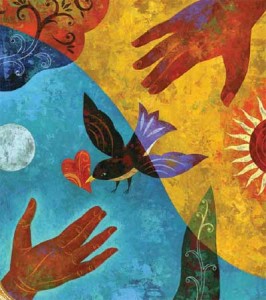 Caring for an aging parent can be a daily juggle.  It is estimated that up to 7 million people in the United States help care for an older relative long distance. If you are the designated caregiver in your family and you live more than an hour away from the relative who needs help, Consumers Union suggests these ways of preparing for the next crisis.
Maintain a care notebook
Keep a file of your parents' medical records, including test results, current medication, allergies, insurance coverage and Social Security numbers, along with their physicians' contact information. Collect e-mail addresses and phone numbers for neighbors and close friends, as well as the phone number for the nearest hospital.
Develop a relationship with your parents' doctors
If possible, schedule your parents' appointments while you're visiting. To avoid future frustration, ask your parents to sign privacy releases giving your doctors authorization to speak with you by phone regarding their care.
Find a local senior or geriatric care manager
These professionals are usually trained in gerontology, social work, nursing or psychology, and can identify problems and help provide solutions that you might not be aware of. They can also screen, place and monitor in-home help, and arrange for short- or long-term assistance for long-distance caregivers.
Set up an Medical Alert System
If your parent lives alone, talk with him or her about an electronic alert system for emergencies such as LifeCall. These systems, typically lightweight devices worn around the neck or wrist, require only a push of a button to generate an automatic call to summon emergency help. You might also want to arrange a daily check-in call or e-mail message.
Don't go it alone
If you have siblings, try to split doctors' visits, financial costs and other responsibilities with them as much as possible. Make a list of family members, friends and neighbors who are willing to help with transportation and home visits. Check into senior day care or recreational programs available through local governments or nonprofit groups. Also investigate the availability of meal-delivery programs and transportation services.
Additional resources
________________________________________________________
Contact LifeCall Medical Alert System, one of the leading providers of BOSCH in-home health care monitoring solutions for seniors and at-risk persons seeking to retain their independence and remain in their own homes.