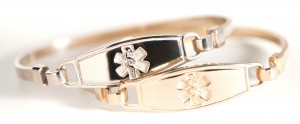 Medical ID bracelets are worn around the wrist and are engraved to exhibit a senior's vital health information.  This information may include serious medical conditions, medications taken, as well as allergies. You may wonder if all this is truly necessary during an unfortunate emergency event, perhaps this article will help you decide.
Several emergency medical professionals recently took a survey to calculate how frequently and in what types of situations did they search for a medical ID bracelet:
95 percent of asked emergency responders confirmed that they check for medical ID bracelets in the event of an emergency.
75 percent of emergency room medical staff looks for medical ID immediately when a patient arrives.
95 percent of medical staff looks at patient's wrist first when looking for medical ID, 68 percent search around the patient's neck for an ID necklace.
Medical information is not the only information that can be engraved on a medical ID bracelet, other information can be included such as:
Blood Type
Advance Directives
Contact Lense Usage
Emergency Contacts
Existence of a Living Will
Organ Donor Information
Implants
Pacemaker
Stent
Faith
The above information including known medical conditions, allergies and prescribed medication could be crucial in the event of an emergency.  The valuable, brief information that is able to be read on a medical ID bracelet greatly assists emergency medical professionals assess your current health information and save your life.