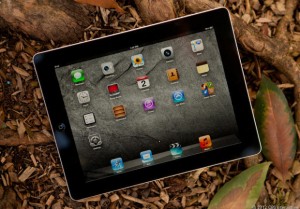 "To this technology-ninny it's clear
In my compromised 100th year,
That to read and to write
Are again within sight
Of this Apple iPad pioneer"
– Virginia Campbell, 99
Mary's Woods Retirement Community in Lake Oswego, Ore.
Ms. Campbell, still going strong and closing in on her 100th year, has glaucoma making it difficult for her to read … until her daughter gave her an iPad!
Afterall this is the year of the tablet, and many seniors see better with tablets' adjustable type size. Reading becomes easier again. Recent research based on tests conducted with 66 adults age 50 and over has shown that older people read faster when using an iPad, compared to a newspaper with the same 10-point font size .
When the font was increased to 18 points — easy to do on an iPad — reading speed increased to 137 words per minute.
What makes the real difference is the illuminated screen of tablets, which heightens contrast between words and the background. As we age, this contrast sensitivity decreases making it a struggle to read fine print.
There are other eye conditions that come with age, of course, like macular degeneration which prevents people from reading and staying connected to our world of ideas and imagination.
Not all older adults are like Virginia Campbell, sadly. They find digital technology baffling and simply do not feel comfortable using it. For them, a tablet may sit on a shelf and get little if any use.
Other caregivers, like Ms. Campbell's daughter, are luckier and must be delighted with their charges' response to this new technology.
It makes their job far easier!

Contact LifeCall Medical Alert Systems, one of the leading providers of BOSCH in-home health care monitoring solutions for seniors and at-risk persons seeking to retain their independence and remain in their own homes. www.lifecall.com