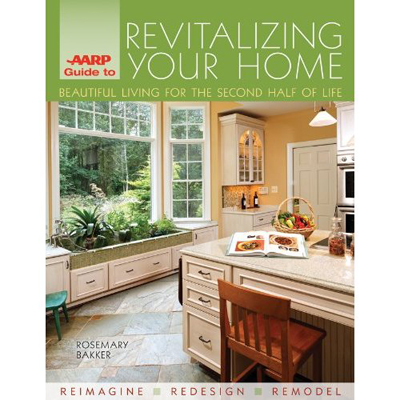 What is "aging in place"?  Simply, it describes a cultural shift in which older people are choosing to stay at home, rather than live in nursing homes or assisted living facilities.
The National Association of Home Builders describes the term as:  Remaining in one's home safely, independently and comfortably, regardless of age, income or ability level.
It means the pleasure of living in a familiar environment throughout one's maturing years and the ability to enjoy the familiar daily rituals and the special events that enrich all our lives.  It means the reassurance of being able to call a house a "home" for a lifetime.
It Could Be Cheaper To Stay At Home
The average annual cost of nursing home care in 2011 was $86,040.  Hiring in-home assistance is cheaper—but still not ideal—with annual fees averaging $38,000.  But is it possible for seniors to maintain independence without completely surrendering themselves to someone else's care?  Yes.  It just takes some determination and room-by-room modifications.
Solutions can be simple, no-cost or low cost changes to make your home more livable. Solutions can also involve larger-scale modifications such as structural changes.
Some low cost home improvements:
Enhance natural lighting
Improve lighting in bathrooms, hallways and staircases
Install lever handles on doors and faucets
Install handrails on both sides of the staircase
Use non-slip strips in the shower or tub
An Aging in Place Plan Is Not Just For Old People
Americans of all ages value their ability to live independently.  But without a plan for aging in place, it can be hard to stay in control of your life.  Knowing your health risks and financial options can make a big difference in your ability to stay in a familiar place.
For a complete list of home assessment tips, changes related to aging, safety tips, pointers on hiring help, and much more, click below:
http://www.seniorresource.com/ageinpl.htm

Contact LifeCall Medical Alert Systems, one of the leading providers of BOSCH in-home health care monitoring solutions for seniors and at-risk persons seeking to retain their independence and remain in their own homes. www.lifecall.com